Summer School
Blog
The latest from St Edmund's College Summer School.
Meet Casper
Posted on 18 June 2021 by Casper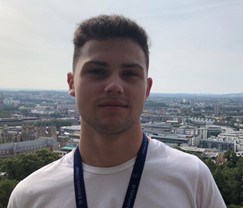 Hi my name is Casper, I am from the Netherlands and I am going to tell you a little bit about my time at the Summer School. When I was 15 years old, I attended the Summer School in 2019 for three weeks and those three weeks were one of the best three weeks of my life.
After a long year of learning and studying at school, the summer vacation finally arrived. I decided to go to a Summer School because I heard it was much fun from an acquaintance of me. I still had many doubts how the lessons, learning and studying was going to be. I did not want to go to 'school' in the summer. But the Summer School was everything but 'school', it was one of most enjoyable and amazing experiences and everything I learned was being taught in a fun way. 
In the lessons we were actively engaging in debates, giving presentations or playing all sorts of games so you indirectly boost and practice your speaking skills. I realised, by talking and bonding with classmates of all different nationalities, that the world is much bigger than the country where I live. One of the most memorable and enjoyable assignments was when we went to Oxford and we had to make a 'vlog' with a classmate about the city. So you practice your speaking, discover the city and immediately make lots of fun photos and video's to remember. 
Apart from the lessons I discovered the culture of England through the many excursions to London, Bristol and Oxford. Going to museums and theatre, a guided tour or sightseeing together with your friends is amazing to learn about England and having a good time. The best thing was to make friends and laugh with each other.  One time, I was having lunch with my favourite teacher and my two friends, who were Turkish and Portuguese and it was so fun that we just laughed the entire time. Because of this experience I also made international friends besides my Dutch friends. In the evening we eventually had to go to our corridor. The boys above the age of 15/16 slept in one corridor with a roommate. It was always much fun as we made little parties and had many pillow fights, although it was sometimes nice to relax after a busy day.
Additionally, the way everything was organised and prepared really stood out. From the being picked up at the airport, the lessons and the rules to the daytrips and activities such as camping, laser gaming and going to the shopping centre.
The last thing I want to say is that because of the Summer School I became interested in universities in foreign countries, especially universities in the United States. There are clear similarities with the Summer School, for example the campus, the international community and lots of sports. I realised thanks to the Summer School it could be a real possibility for me to study in other countries than only the Netherlands. Currently I am accepted at a university in America and because of the summer in 2019, I am going to America in the summer of 2021.
Thank you St. Edmund's!
Casper