Education
The educational experience provided on the summer school is intended to complement the child's teaching and learning at home. The course offers new learning opportunities through exciting projects, theatre, educational visits, option courses and activities all designed to challenge and extend personal development and language competence. Native speakers and bi-lingual students are welcome.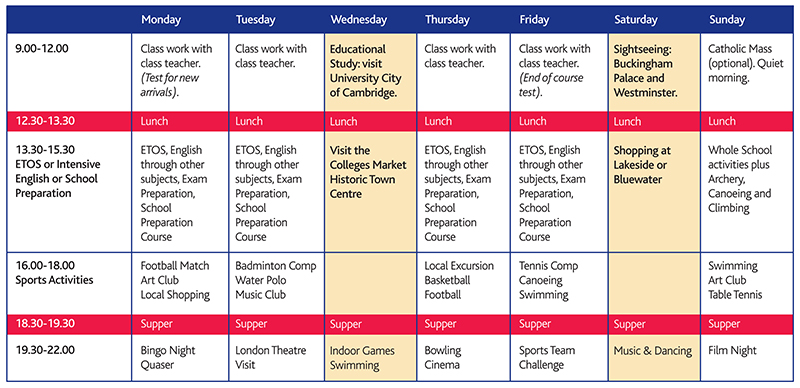 The course provides 20 hours of class-based teaching per week plus educational excursions. [This is an example of a Week 2 timetable].
Mornings 09.00 - 12.30
Class teaching (12 hours per week)
Maximum class size 14
Classes focus on engaging educational topics suitable for the age of the class whilst extending students' language skills. 
Wednesdays and Saturdays 08.30 - 18.00
We have 3 full-day study visits and 2 sightseeing/shopping trips on Wednesdays and Saturdays. (These days are subject to change).
Afternoons 13.30 - 15.30
ETOS English Through other Subjects (8 hours per week) For example: School preparation, English, ESOL exam preparation, Art & Craft, Tennis, Ceramics, Water Skills, Cookery, Magazine, Chinese, Trampolining, Dance, Orienteering, Digital Art, Music, Scuba Diving, Football, Local History, Horse Riding. [Courses may vary according to demand and availability]